Bicentennial Mall
http://tnstateparks.com/parks/about/bicentennial-mall
L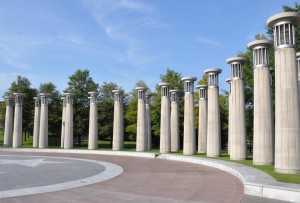 ocated in the shadow of the Capitol in downtown Nashville, Bicentennial Capitol Mall gives visitors a taste of Tennessee's history, natural wonders and serves as a lasting monument to Tennessee's Bicentennial Celebration, which was June 1, 1996.
During the urban building boom in downtown Nashville during the late 1950s and early 1960s, the Tennessee State Capitol disappeared from sight on the east, west and south sides. The northern side of the Capitol was not conducive to the construction of skyscrapers due to the swampy conditions that existed in many areas between the Capitol and the Cumberland River. Because of its natural attributes, the historic French Lick that attracted wildlife, Native Americans, trappers and settlers to what would become Nashville also preserved the remaining view of the Capitol and became the home of the Bicentennial Capitol Mall State Park.
With just a simple walk in the 19-acre park visitors can experience many facets of Tennessee's history including a 200-foot granite map of the state, a World War II Memorial, a 95-Bell Carillon, a Pathway of History and the Rivers of Tennessee Fountains. The 11 planters along the Walkway of Counties show native plant species from different regions of the state. The two page park map is a helpful and informative tool for those wishing to take a self-guided tour of the park. To learn more about our seasonal,  ranger-led guided tours, please visit our activities page.
Park rangers provide interpretive park tours for groups, historical presentations in period dress and off-site programs by reservation. Program topics illustrate Tennessee's rich history from early settlement days to present time. To schedule an interpretive tour, presentation or off-site program, please call 615-741-5771.
A variety of events are offered throughout the year. An annual highlight is Tennessee's History Festival. Held in the fall, this free event is a popular educational field trip for area schools. During the festival historical interpreters provide hands-on demonstrations of period trades and activities providing a glimpse of how people lived from day to day during the mid 19th century. Schools and groups wishing to attend the festival may make reservations with the park manager.
The visitor center, picnic tables and restrooms are located under the train trestle. Picnic tables are available on a first come, first serve basis. Adjacent to the park is the Nashville Farmer's Market. Open year-round, the market is home to restaurants and shops with a wide variety of offerings and cuisines.
The park features a 2,000-seat amphitheater that provides dramatic views of the Nashville skyline. Composed of terraced lawns, the amphitheater was designed after the Greek theater at Epidaurus. The amphitheater is used for many special events and ceremonies and may be reserved for a fee.
For more information, please contact Bicentennial Capitol Mall State Park directly at 615-741-5280.