Plymouth, Indiana
http://en.wikipedia.org/wiki/Plymouth,_Indiana
Located along the banks of the tranquil Yellow River, Plymouth is the center of commerce and government in Marshall County, Indiana. Incorporated as a city in 1873, Plymouth quickly became an important stop along the Michigan Road. The City was originally platted as a town by John Sering, James Blair and William Polk in 1834. Plymouth was selected as the county seat in 1836.
The historic Michigan Road formed the center axis through downtown Plymouth, providing a broad thoroughfare with wide sidewalks and angled parking. The downtown area has a number of historic commercial buildings, most built between 1870 and 1940. The building styles feature Italianate, Neoclassical, and some other traditional Midwestern styles. Construction of framed buildings in the downtown area were outlawed in the early 1870s after fires claimed some of the wooden structures.
Two locally noteworthy architects participated in giving Plymouth its built appearance. Alves O'Keefe and Jacob Ness helped to design and construct many historic buildings in Plymouth from the late 1800s and into 1960s. Ness was responsible for such structures as the St. Thomas Episcopal Church, while O'Keefe designed and built the Art Deco Rees Theatre.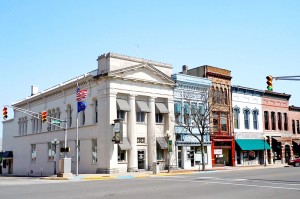 The first store opened was opened here by Oliver Rose in 1835. Merchant trade blossomed and the first Montgomery Ward store in America opened in Plymouth in 1926 on Michigan Street. Plymouth's merchants still occupy many of the downtown buildings and a growing number of retail stores, restaurants and other commercial ventures are spread across the City. Being a rural community, Plymouth has always catered to local farmers and continues that tradition with the Farmer's Market on Garro Street during the summer months.
The first post office was established in Plymouth in 1836, but it was not until 1852 that the first bank opened in Plymouth. The first brick part of Washington School was built in 1873, asking the City for a $20,000 bond.
The City of Plymouth has long been an industrial center. Sawmills, barrels, and baskets have been replaced by plastics, food production, and tire industries. Today, large industrial parks on the City's west side provide stable employment to thousands of Plymouth residents. The first railroad entered Plymouth in 1856 and at one time, there were three major rail lines crisscrossing the City.
Today, Plymouth boasts two major four-lane highways, a municipal airport, two rail lines, efficient public utilities and welcoming citizens. We encourage you to visit Plymouth and see our unique history in person.
For more information about Plymouth:  http://www.plymouthin.com/