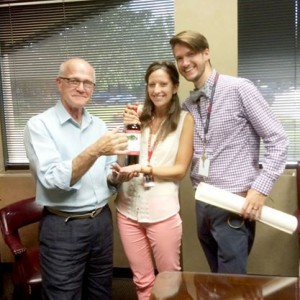 Dennis has been a pleasure to work with. As a first time home buyer, all you hear are stories of how stressful and terrible the process is.
My husband and I were a team with Dennis, and he made the process simple and painless. He listened to our wants and needs and reassured us along the way. He was always honest, and we never felt he was leading us in any direction but one that was to our greatest benefit. Here is a realtor who cares about his clients, which speaks volumes about him as a person. We are lucky to have come into contact with Dennis and are happy to consider him a friend as well. – Kari Edgens and Colin Hunt – Past Client
Kari Edgens and Colin Hunt receiving the keys to their first home. It is always enjoyable to help first time home buyers. Even better when they become your friends. Thanks Kari and Colin for allowing me to be your realtor.