Merchant's Restaurant
http://merchantsrestaurant.com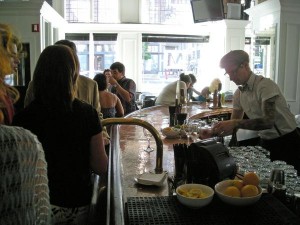 Downtown's Merchants restaurants formally relaunches to the public today following nearly three months of retooling by its new owners.
The Broadway restaurant has operated with an interim menu since May, when brothers Benjamin and Max Goldberg, owners of Strategic Hospitality, purchased the restaurant for an undisclosed sum. The restaurant kept its doors open seven days a week, with construction crews working the skeleton shift to remodel the building.
Strategic Hospitality also owns Broadway's Paradise Park and Division Street's The Patterson House. They also owned Bar 23 and City Hall, both defunct.
The ground floor is now a bright and airy, black-and-white themed bistro. At a preview launch Wednesday night, early garage rock played over speakers, bolstering the downstairs' throwback-cool vibe.
Contrasting with the casual bistro downstairs, the building's second floor features fine dining amid dark walls and low lighting. Whereas the downstairs wait staff wear suspenders and bow ties, the upstairs staff stick with long ties (but retain the suspenders).
Co-owner Benjamin Goldberg describes the new menu as "modern American food with a Southern soul."
He said the restaurant's previous menu featured a lot of "heavy" food — steaks, potatoes and pasta with rich sauces. Goldberg said the new menu distances itself from the steak house feel, with more light fare like fish and salads.
Clayton Rollison, most recently sous chef at Hermitage Hotel's Capitol Grille, is Merchants new executive chef.
Despite the new food and the new setting, Goldberg said he never considered changing the name.
"I absolutely love the history of it," he said.