Union Station Hotel in Nashville
http://unionstationhotelnashville.com
By Autograph Collection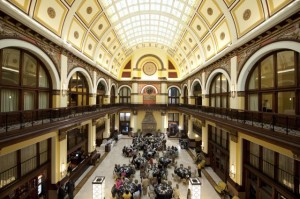 We're hiring! Nashville Union Station Hotel is looking for exceptional members to join our team. Browse through our open positions here.
It is our great pleasure to welcome you to the Union Station Hotel in Nashville, Tennessee. We're delighted that you're here and among the first to know that the Union Station Hotel is now part of Autograph Collection®, a portfolio of independent, boutique, and luxury hotels.
The Autograph Collection® embraces a portfolio of luxury hotels with world-class accommodations and service. For travelers looking for an exceptional Nashville hotel, Union Station breaks the predictable routine of standard hotel chains. Savor the distinctive personality, original style, and upscale amenities by Union Station, a downtown Nashville hotel that doesn't just offer guests a unique experience—but defines it.
First created as a majestic railway station in 1900, this Richardson Romanesque landmark captures America's great railroad era. Our splendidly restored 19th-Century railroad station will inspire you to connect with the past while enjoying the luxury of the present. Showcasing exquisite architecture, historic Southern charm, and first-class service, peel back the layers of time at Union Station – when travel was truly exotic.
Union Station is the inspired choice when visiting Music City. We blend historical design with contemporary luxury, along with Music City touches for a Nashville hotel that is both soothing and fascinating. In a city full of legends, this one reigns supreme.